Efficient and fast testing
for man pack, vehicle and convoy jammer
Protection Jammer Tester
Product description
The Protection Jammer Tester (PJT) is used for testing the functioning of Radio Frequency (RF) jammer systems.
Ease of operation and simple setup makes it an efficient and practical test solution for the installation and operation of jammer systems. Its short test duration makes it ideal to operate as a Go/No Go tester directly before the jammer system comes into operation. It is possible to program the PJT according to customer's needs (e.g. daily frequency setup) and due to its architecture it is possible to use it for both active and reactive jammer types.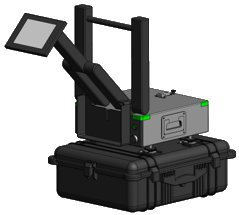 Advantages
Covering of the complete relevant spectrum
Rugged design for harsh conditions
Testing the defined Go/No Go criteria
Easy to carry, relocate, setup and operate
Application Area
The PJT has been designed according to standard military specifications. It is suitable for outdoor use and operation in harsh conditions.