Smooth operation through
coupling simulation
Coupling simulator
Product Description
Modern railway systems have the possibility to build large and small train units according to the demand. Automatic coupling mechanism enable to link several individual units into an entire trainset. The leading vehicle controls the guided vehicle via electrical coupling. In addition to the control commands for braking and accelerating, other functions such as audio announcements or passenger information are transmitted.
The reliable function of the electrical couplings of a train ensures smooth operation in the multiple traction (driving with several coupled trains). This ensures the coupling function of a train with another train, the so-called test vehicle.
SPHEREA reduces this additionally required vehicle by the multiple traction test system viTra. viTra checks and verifies all functions transmitted via the clutch. The test system is connected to the electrical coupling of the vehicle and recognized as a coupled train. Depending on the application viTra assumes the role of a leading or a guided vehicle.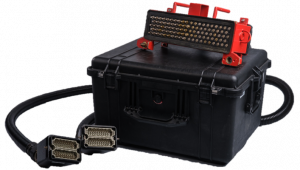 Advantages
No need for a test vehicle
One-man operation
Robust design: workshop, indoor and outdoor use
Digital recording
Manual and automatic mode
Application Area
Commissioning after production
Commissioning after revision
Maintenance